If you have thin hair, there are some habits that you have to get adopt so that your hair can stay without damage. There are many ways to style thin hair so it is good to research and find which styles will not damage the hair.
When selecting a stylist, you have to ask around and find somebody who is used to cutting thin hair and understands it. Growing out your hair may not always be the right thing; it is good to trim it now and then so you can get rid of the damaged hair and breakage. You can work with your stylist to find hair styles for thinning hair and choose something that suits your hair type. There are also so many hair products on the market today that it can get very confusing when choosing something that fits you. You have to look for the ingredients and find products that are made for thin and fine hair. There are also supplements to promote hair growth that can be beneficial. But you will need to discuss it with your healthcare provider so you make an informed decision.
There are texturizing sprays that can be used on the root of the hair and creates more volume. This will give the appearance of thicker hair and you also will not need to use a lot of the product to get the desired look. You can find so many hair treatment options for thinning hair. You can check reviews for products like this so you get an idea of how it has worked or not worked for other people.
Another great product for thinning hair is hair building fibres that include keratin proteins that will combine with your current hair and create full appearance. The good thing about products like these is that you can use it under many conditions. You don't need to worry about sweat or rain undoing the effects of the product. Balancing shampoo can improve hair growth as well. You will need to check up on the ingredients on the bottle to see whether they are safe for your hair.
A good styling tip for thin hair is to avoid getting bangs. Instead of bangs, you can go for long layers that frame the face. And when it comes to layering hair, make sure that you don't do it in the back as it will take away the hair you already have. It is best to have the layers in the front only. A blunt cut can be very flattering to somebody with thin hair as it makes your hair appear longer and fuller. A blunt cut shoulder length hairstyle may be right up your alley.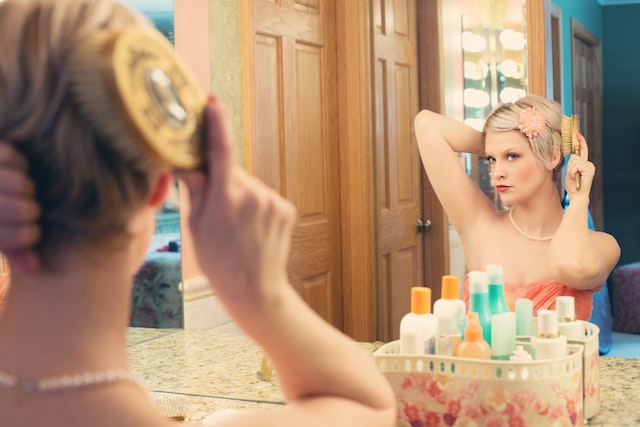 If you are colouring your hair, go for deeper roots instead of light. This will give the impression of volume and thicker hair. So avoid putting highlights at the roots and have the highlights going to the ends only. You can also experiment with hair extensions to see whether it is something you like. You can use clip-on extensions for temporary effect when styling your hair for special occasions.